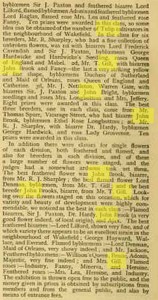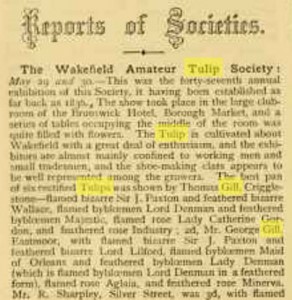 The full show report in The Florist and Pomologist can be found here together with notes on a visit to George Gill's garden.
The reporter for the Gardeners Chronicle (RD) in addition to covering the show also produced an excellent article for a later edition of the Chronicle, Florists Flowers: Tulips at Wakefield, (included in  Interesting Articles), which provides us with a lot of detail about George Gill and his growing methods, and several other members of the Society.
In this report which is very good in terms of the naming of flowers are included several flowers which survived into the 20th and 21st centuries. 'Sir Joseph Paxton', 'Lady Catherine Gordon', 'Adonis', 'Lord Frederick Cavendish', 'Mabel', 'Doctor Hardy' and 'Bessie'.