Although the origins of the Society seem to belong to the early part of the 19th Century, florists' tulips were grown in and around Wakefield a hundred years previously at Woolley Hall and at Walton Hall.
Around 1730, midway between the two Jacobite Rebellions of 1715 and 1745, those of the catholic faith in England were treated with a great deal of suspicion and controls. In a remarkable book Illustrations of the Literary History of the 18th Century appear a number of letters to and from a Doctor Richard Richardson (see below)
Richardson lived at Bierley near Bradford and was a self-confessed florist who corresponded with his son who lived in Holland and supplied him with tulip bulbs and plants of other florists' flowers. He also wrote letters to Lord Petre a botanist who lived in the South of England, but who died of smallpox at a very young age, and to the Rev Thomas Petre who lived at Walton Hall. Thomas Petre was a Jesuit Priest and died at the Hall on 5 January 1729. It is not known what his relationship, if any, was to Lord Petre. The letters from Thomas Petre to Richardson are undated or do not show the year when they were written but include a number of references to tulips and other florists' flowers. Click on the image to expand.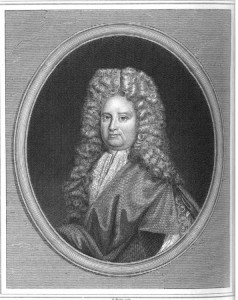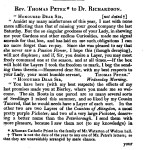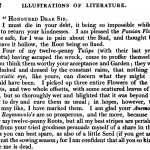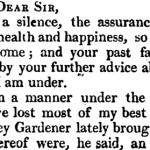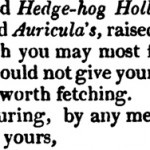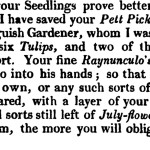 It would be interesting to know of a connection between the tulip growing aristocracy of the 18th Century and the working class growers one hundred years later. Certainly the gardeners from Woolley hall exhibited at shows in Wakefield at the beginning of the 19th Century. Perhaps the connection lies there.
A copy of all the letters from Rev Thomas Petre to Dr Richard Richardson may be viewed here