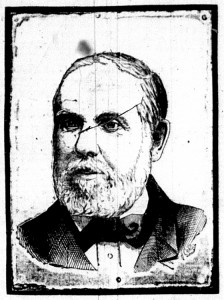 Robert Sharpley was the most prominent person from the Wakefield community to become a member of the Society during the 19th Century. He himself was of humble origins in that both father and grandfather were coachmen.
Because he died at the early age of 55 in 1885, his exhibiting at the shows was over a very short period, perhaps as little as five years. However he was very successful during this period and also at the Manchester shows of the Royal National Tulip Society. The Sheffield Daily Telegraph of Monday 29 May 1882 records one such show success and also describes Robert growing 7,000 tulips near to Clayton Hospital. It is known that trips were arranged from around the area to view these at flowering time. To have amassed such a large number of bulbs suggests that the period over which he grew the bulbs was much longer than the short time that he was an exhibitor, and in addition  that he purchased from, or was given bulbs by, other growers. This is borne out by an article in The Gardeners Chronicle 15 July 1882 entitled Florists' Flowers with the sub-heading Tulips at Wakefield. How he first became interested in the florists' tulip is not known, though one of the exhibitors at the 1829 show was a Mr Shillito of whom there is no other information. Robert for many years was employed by W Seeker and H Shillito, blanket merchants and the Shillito mentioned at the show could be connected with that firm. A more likely possibility is through his connection with George Gill, a long-time exhibitor, in whose obituary after his death in December 1901 is written "He was closely associated with the late Robert Sharpley in the halcyon days of Wakefield Liberalism and for many years did valuable work in connection with registration".
The obituary published in the Wakefield Express, from which the picture is taken, occupies half a page, and a few excerpts are shown below.