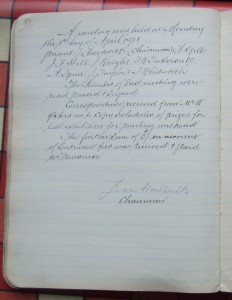 A meeting was held on Monday
the 1st of April 1911(sic) (1912)
present- J Hardwick (chairman) H Gill,
J H Still, J Wright, F W Tattersall
A Spurr, J Taylor & I Whitworth
The minutes of last meeting were
read, passed and signed.
Correspondence received from Mr W
Peters as to Copy Schedules of Prizes for
last exhibition for printing was read.
The further Sum of 5/- on account
of entrance fees was received and paid
to Treasurer.
Jesse Hardwick
Chairman